The 80s were a cruel fashion decade in many respects. Shoulder pads, big hair and jewellery so chunky you could demolish houses with it. Wedding dresses were adorned with big puffy sleeves, gaudy embellishments and huge trains. This was typified by the wedding dress of Diana, Princess of Wales. Her dress became iconic of the decade.
However there was one trend, typified by the Royal Wedding of 1981, that is make a comeback which I'm a teensy bit thrilled about: floral headdresses. Along with shower bouquets, the floral headbands and wreathes that bedecked the hair of the brides and bridesmaids in 80s are coming back stronger than ever.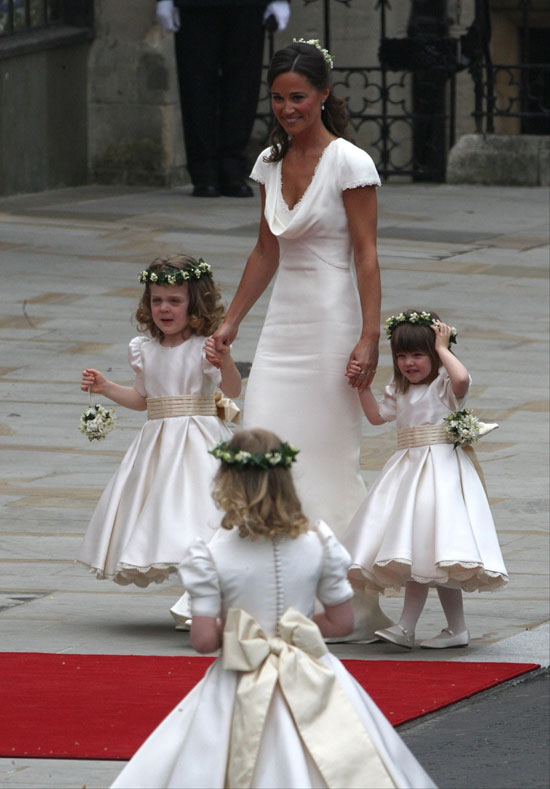 digitialspy.co.uk
The trend started with last year's Royal wedding. The younger bridesmaids had headbands of ivy leaves and white flowers while maid of honour Pippa Middleton wore a clip of lily of the valley. Following on from this, many more brides have opted to wear flowers in their hair.
It's a style long advocated by the wonderful florists Spriggs and Miss Pickering. It's such a great look because it lends itself to all kinds of occasion: casual, formal and themed. Using seasonal blooms or tying in with your bouquet can really emphasise your colour scheme. It also looks wonderful on all ages; from very young flower girls to brides entering their second marriage. Even high fashion is getting in on the action. Lady Gaga attended milliner extraordinaire Philip Treacy's SS13 show at London Fashion Week with colour and arty piece.
Indeed this trend show absolutely no sign of dying out with more spectators at London Fashion Week wearing garlands in their hair, the Duchess of Cambridge joining in with local customs in the South Pacific and young bride Peaches Geldof carrying on the bridal tradition.
I for one am absolutely thrilled by this wonderful revival. Tiaras are pretty in their place, but nothing quite says it like flowers.
For all your wedding flowers needs, please contact louisesblooms@yahoo.co.uk