When Elizabeth Taylor married first husband Nicky Hilton back in 1953, she loved her wedding dress from 'Father of The Bride' so much that she had a near identical one made for her actual wedding. Similarly when Grace Kelly married Prince Rainier of Monaco, she had the world's top couturiers falling at her feet. She ignored them, and when straight to MGM costume designer Helen Rose who had worked on such films as 'Annie Get Your Gun', 'Two Weeks of Love', 'On The Town', and even Taylor's 'Father of the Bride.' In doing so, she created one of the most iconic wedding gowns of all time; echoed and repeated ever since.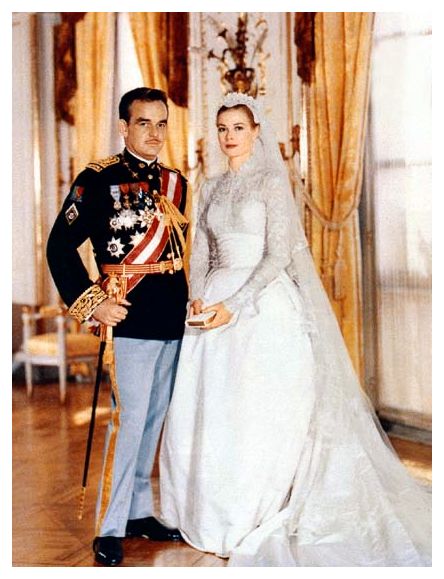 Hollywood movies have been giving inspiration for weddings everywhere since they first began. Here we take a looking back at some of the best movie weddings of all time:
Twilight: Breaking Dawn was one of the most highly anticipated weddings of 2011, second only to the Royal Wedding. The Caroline Herrera dress worn by Bella Swann was a closely guarded secret. The detail in the lace on the back as seen to it that 'back detail' is a hot bridal trend at the moment.
Mammia Mia! had its central bride Sophie in a Grecian style flayered and flowing gown, designed to look as if she'd made it herself. It had to be a dress appropriate to the scorching hot temperatures of the Greek island of Skopelos. Whilst it may not have set the world alight in the fashion stakes, Mammia Mia! reportedly had tourists visiting the Greek Isles in droves. An excellent spot for a romantic honeymoon.
Four Weddings And A Funeral simply has to get a mention. Okay, it's not a strictly Hollywood flick, but it was such a smash over in the US as the British film industry hadn't had in decades. The film helped to push aside the long-sleeved cuffed dresses and Juliette caps of the 1970s and 80s and made way for puffy sleeves and floral headdresses. The wedding dress retailer, Berketex Brides who supplied all the dresses featured in the film, also got a healthy boost to their business.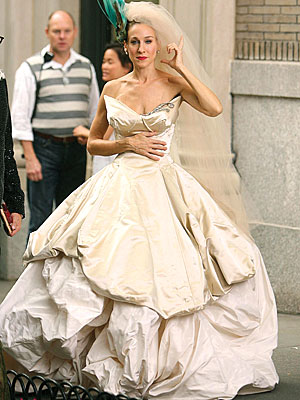 Sex & The City produced quite a few highly stylish gowns, but this one surely has to be the most iconic of all of them. With the trademark Vivienne Westwood neckline and a huge princess skirt of the kind not seen since Princess Diana got married, this dress was a piece of unadulterated, luxuriant eye candy. It's no wonder that because of it, Vivienne was put in the ring to design Kate Middleton's dress.
onefinedaybridalandgown.com
In the last film she ever made before becoming a princess, Grace Kelly emulated 50s bridal glamour with the calf-length flaired skirt and long-sleeved ensemble in MGM's High Society. It was yet anothet Helen Rose creation which took inspiration from the fashion houses of Europe with the Dior-style hat. The lily of the valley motif can be seen on some of the SS12 lines now.
neon-splendor.tumblr.com
Even Julie Andrews herself said of her Sound of Music wedding dress: "That dress was a miracle. I've never felt prettier before or since." And we're inclined to agree with you, Julie. Simplicity was the key to this gown. No frills, no lace, no fuss. It hugged the actress's body and showed off her lovely curves beautifully. Teamed with a simple floral headdress and a cathedral length veil, it was true to Maria's country-loving roots, but impressive enough to fill the Saltzberg Cathedral.